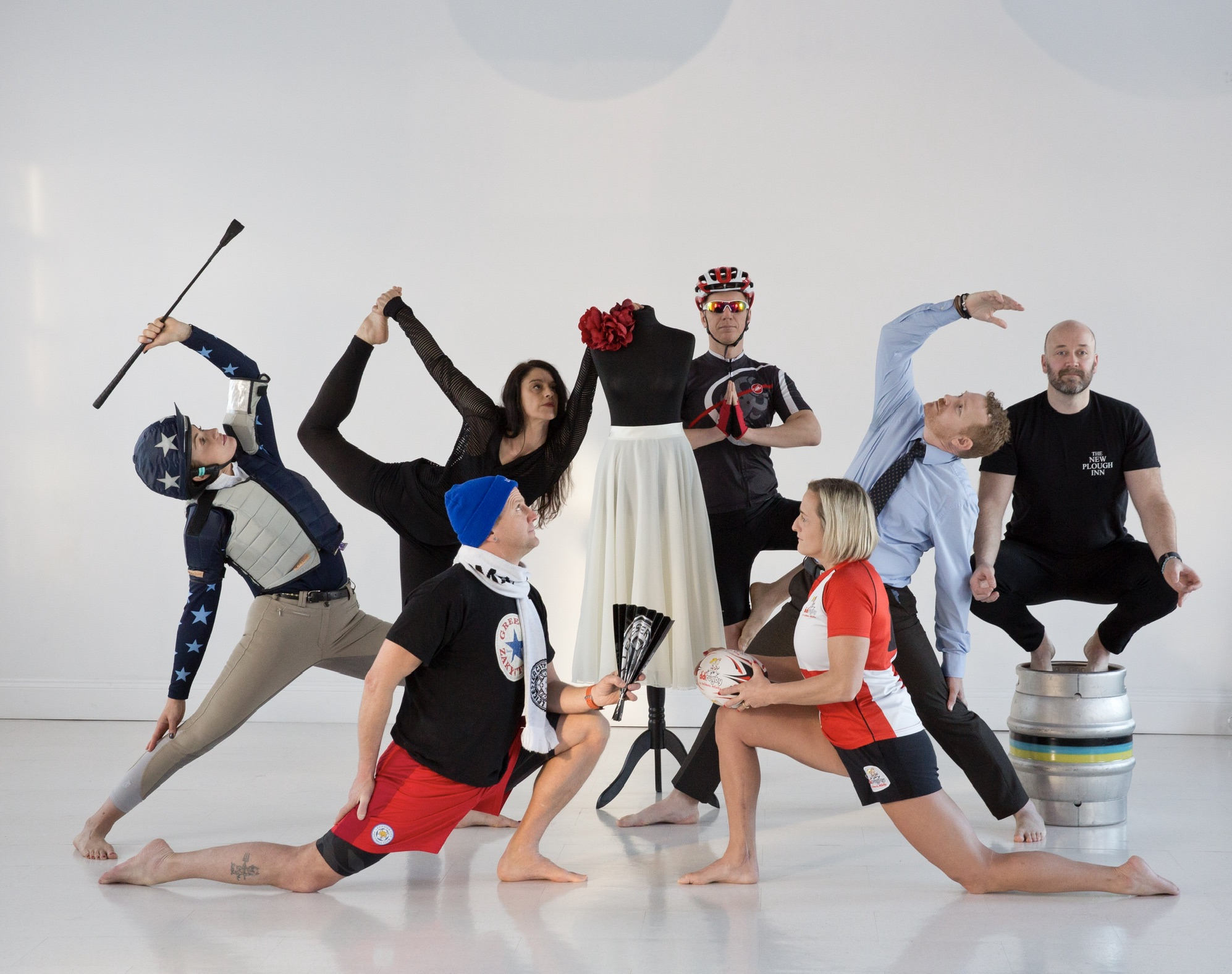 Yoga For Mind, For Body, For Everyone…
Proving Yoga is EVERYONE, read some of our real students stories. Every motivation and reason for practicing yoga is individual. There is no 'one size fits all' approach at the Yoga Loft!
Meet Madhu.... aka Grandmother who has been with us since we opened...
My name is Madhu and I am 66yrs old. I started yoga at the Yoga loft Studio Burbage 2yrs ago after my retirement with the guidance of amazing teachers Katrina and Vicki.
My practice has helped me grow
stronger, more flexible, supple and retain youthful body and mind.
We have loved having your very grounding, caring presence in the studio Madhu and both Kat and I have spoke about the determination that you show (she even did the handstand workshop with us!!) You've never let your age stop you from giving any of it a go.
The quickest thing that ages us is the loss of suppleness in the body and Madhu is not alone, we have a high number of "older" by number only students here at The Yoga Loft.
Meet Pete the plasterer and avid LCFC fan... Pete has also been with us from the very beginning travelling over from Leicester twice a week straight after a day's graft to get his yoga "fix!" He even comes on match nights but just nips off a little earlier to get to the stadium. Unless he's away watching them in Europe - then we don't see him here's his story
(KNOW A MAN WITH A BAD BACK!?! This could be the story to show him!!! )
I got involved in yoga from my builder friend Scotty, I've always kept fit with boxing, gym and swimming but started suffering with lower back pain. It's just wear and tear (an age thing!) I've found that the yoga has helped me hugely by stretching out stiff areas and gaining more flexibility & suppleness in the body and I no longer have to use pain killers for the pain in my back since I started the Yoga 2 years ago. I also feel lot better generally so why not start your own Yoga journey?
We are finding many men are coming to us with lower back pain this just from the compression in the spine from the day to day activities of driving or a desk job or like Pete general wear and tear - men tend to suffer more because on the whole their structure is heavier and so the spine takes more compression than the ladies. Many of the men that have come to us can vouch that the pain has decreased and the pain killers have gone!
Yoga is one of the few things that actual works on your skeletal system and many think Yoga is just stretching when actually it's very strengthening too and so works on all the muscles around the back that support the spine and I ALSO know that the men that DO come can also vouch for that- you'll need a towel for the sweat isn't that right boys !?
Don't underestimate the yoga!!
Many people now utilise yoga for cross training purposes so here's introducing someone who does exactly that's and that's our Horserider Ruth Spencer....
Occupation: Saddle Fitter/owner of RS Saddles
Hobbies: Horse riding/ yoga/ spinning
Why I yoga:
I started yoga to help increase my flexibility and for its meditative benefits due to my hectic lifestyle! I have found my core stability has hugely improved, which I notice not just in my horse riding but also in everyday tasks.
I can't imagine life now without yoga I feel generally much stronger and healthier!
Ruth's Practice has become really strong and in such a short space of time of only 12 months!! She was already fit and healthy so it's lovely to hear how the yoga is adding an extra element/layer to her training both physically and mentally - I think it's safe to say the yoga bug has been caught by Ruth who now has an unlimited membership with us
Such a powerful warrior -right there!
Finding the balance between the PUB and his PLANKS is the very lovely, cheeky chap our local pub landlord Darren Lavender....
Darren and his wife Louise are well known in the area for running both The Plough, The Greyhound & a micro brewery, they have raised a significant amount of money for local charities over the years. In FACT The Yoga Loft actually began at The Plough!!!!! Kat, and then I, used to hire the barn at the back & that's where it all started for us, for them and for some of you!? We have very fond memories of where it all began and we're so pleased that we took a piece of The Plough with us as you continue to practice with us (despite the commute to class being longer than it used to be!!)
Here's Darrren's Story....
My Wife Louise and I began practising yoga in 2014 by having private classes with Kat, initially it was to help with flexibility and to work alongside the training we already did, and Louise had also spoken to Kat regarding the benefits it might have to help with back pain. Not only did it help with the flexibility and training but Louise noticed a massive improvement in her back, the breathing techniques also became useful in day to day life.
Since then we have continued to practise whenever possible with both Kat and Vicki, however owning and running two pubs makes it tricky sometimes, but the benefits of practise are definitely worth the effort to make it to the loft, I certainly feel much better when I've practised and will continue to do so as long as I can.
Meeting tonight on the mat is the very grounded Mark CEO of his own watch business & he used to train for Iron Mans.
Mark is a busy success driven guy, who makes the time to compartmentalise . We're so SWITCHED on & driving for success in our 21st Century Lifestyles we have to remember to SWITCH off knowing that we're more productive and creative if we do... the best ideas come in the unconscious rather than conscious mind.
Here is Mark's journey Mark Francis
"I was always interested in yoga but like most didn't do anything about it and didn't think there was anywhere to go and practice.
About 10yrs ago I got knocked off my bike training for an iron man and since then alway had a sore lower back. I thought yoga could help with this and finally took the plunge and went to BROGA (Men Only) at The Loft, which I loved!
Thinking it would be easier, I went to mixed level yoga, which to my surprise at the time was much harder lol(I loved it) and have been hooked ever since. Doing yoga 2-3 times a week has amazingly helped my lower back pain to the extent it has gone and my overall flexibility has obviously improved as well and i also find it very relaxing . Just wish I had started earlier..."
Have loved having Mark's presence in the studio & if ever he's under a lot of pressure or stressed from his work -I would never know it , it never shows #undercontrol. It's even become quite a family affair now with his wife and his sister joining him at points in the studio. Mark has also made a significant amount of progress in his practice from his once a week BROGA day's through sheer perseverance & consistency.
This girl can!! Introducing our ex England Rugby International & Elite Athlete Vicky Macqueen (Owner also of Didi Rugby).... a lot of admiration for this one who COULD NOT TOUCH HER TOES when she started Yoga.
Now it's easy to do something you're good/ a natural at right? But it takes true guts and determination to step out of the comfort zone & do something that doesn't come naturally to you ... she may have many a cap for England but it's fair to say yoga was and is no easy feat for Vicky and that must be a hard thing to face when you're used to being TOP of your GAME!! But this is a true story of "perseverance pays" and she does now touch her toes and WHY did she persevere? Because she knew the very fact she couldn't do it was the very reason that she NEEDED to do it....her only wish that she's done it sooner -hear her story.
"My yoga journey started with Vicki 3 years ago and I immediately recognised the amazing benefits that yoga gave me! Originally from an international rugby background, I didn't utilise yoga until I retired... I now wish I had as I am certain that it would have had a positive impact on my rugby both physically and mentally at the time.
It has certainly improved my flexibility, my core strength and recently, more importantly it's enabled me to switch off from running my own business. It's taught me the benefits of switching off the mind as well as working out the body! Currently I go to class with my mum (who at 70 shows me up as she more flexible than me! it is something that we enjoy spending time doing together. I am so glad Vicki introduced me to yoga and it is certainly a practice that will stay with me for the future and that I intend to do more of!
Introducing today our beautiful (inside and out) & bright (both in brains and in nature) Barrister Laura Scott.
Laura decided at the age of 40'to leave the London rat race & relocate to Hinckley and has been with us ever since. She was used to a choice of studios living in the Big Smoke and so was delighted to discover that there was a specialist studio in the area and has felt at home with us and our yoga family ever since. Starting as a student and since completing her 200h is Laura now teaches for us also. Laura has a wonderful nature and energy - it's just a pleasure having her presence in the room whether as student or as the teacher it is like she was always meant to be here.
I joined my first yoga course in 2001, the same week that I started working as a pupil barrister. Yoga became a regular part of my life, giving me a chance to check-in with myself while I navigated my rewarding but deeply challenging career.
In 2013 at the age of 40 I become pregnant with my daughter and my love of yoga deepened as I focused more on pranayama (breath work) and the magical yoga nidra (a type of yogic sleep).
As my life become more and more complex, I then discovered yin yoga, a passive but powerful form, which has been the main focus of my asana practice for the last 5 years.
I moved from London to Hinckley in late 2016 and soon started going to The Yoga Loft to enjoy the variety of classes there. The Loft is a hub of community life and I feel very fortunate to have it so close by. In July 2018 I obtained my 200 hours teacher training qualification and have been teaching regularly at the Loft since then.
Laura's love of yoga from the initial love of physical asana practice has just evolved and has clearly now become a lifestyle for her. There are many layers to yoga, the first layer is the physical practice and then many more unfold and develop as your understanding and practice of it grows - like we'll
often say don't just practice yoga to get better at yoga, practice yoga to get better at living.
Well where to start with this one!?! Last but by no means least the one and only Jo Crossfield - A creative soul who you'll hear before you see!! Jo's presence is felt the minute she enters the room and we can't remember life at the Loft without her!! (Teachers and students!!) She makes us laugh, she makes us cry (she's so thoughtful) she makes anyone feel at ease as she chats away to everyone, she makes fun of herself & we adore her complete honesty!! Such a genuine gal - this woman ROCKS!! So happy we found you and you found us -together we are the same!! Here is what this fabulous, free spirited lady had to say about her journey...
The Yoga Loft is a sanctuary. A beautiful space to escape from the external world. A space to reconnect to yourself away from the outside pressures. I discovered Yoga late in life, but it has become an essential part of my life.
Yoga is amazing for building strength and flexibility, but I feel the main benefit is for your mental and emotional well being. It brings clarity to the mind, releases your emotions and allows you to be present.
Yoga calms, soothes and balances our emotions and clears the mind. Yoga also connects on a spiritual level, which is a beautiful connection if you are that way inclined.
We need Yoga more than ever in today's society. To slow us down. To allow us to breathe.
The relationship we have built with Jo epitomises what we wanted to achieve at The Yoga Loft not to just deliver Yoga Classes but a to create a. place to come and relax (sometimes Jo comes up
just for a cup of tea!!) & feel part of a community and yoga family.